Archiving Early America
Your Window Into America's Founding Years
Resources For Teachers and Students of Early American History
Archiving Early America provides the in-depth background that allows you to understand this country's formative years. For free access to our extensive body of information,
click here
.
Freedom Documents
The
U.S. Constitution
(read the
full-text
here) is the greatest document for personal freedom ever written by man. You'll find it at
Freedom Documents
, along with the
Declaration of Independence
(
full-text
) and the
Bill of Rights
. Read the
first public printing of the Constitution
as it appeared in
The Pennsylvania Packet
on September 19, 1787.
Rare Photos
AMAZING Photos of the Last Veterans of The Revolutionary War In The Early America Review!
Notable Women of Early America
Learn about the leading ladies who made important contributions to America's early years.
Download free History App and eBooks
Download Our Free App
to Visit Early America's Historic Sites As You Tour The Original 13 Colonies! Includes a comprehensive list of historical sites, crucial battle sites and This Day in History news. Our eBook Section Lets You
Download Books
from Early America's Past! Download over a dozen American Classics like Thomas Paine's "The Rights of Man" and "Common Sense".
Videos -
Short Educational Films of Noteworthy Events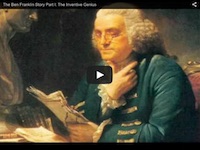 Students and Teachers alike will enjoy these short educational films exploring early American history.
A Jefferson Primer
Thomas Jefferson was endowed with a multitude of diverse talents and interests. A close study of his life reveals accomplishments as lawyer, architect, naturalist, paleontologist, inventor, agronomist and linguist.